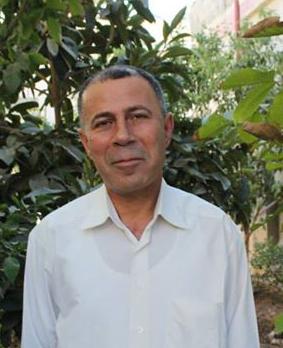 Name: Abdul Razeq Hasan Yasin Farraj
Date of Birth: 17 January 1963
Date of Arrest: 27 September 2019
Prison: Rimonim Prison
Residence: Refugee from Lod Residing In Ramallah
Marital Status: Married with Two Sons
Profession: Finance and Administration Director at UAWC
Qualification: BA in Economics and a Master in Non-Profit Management from Birzeit University.
 
Detention History 
The Israeli Occupation Forces (IOF) arrested Abdul Razeq Farraj six times before his last detention on 27 September 2019. Farraj was first arrested in 1985 and sentenced to six years in prison on the grounds of a military indictment. After his release in 1991, Farraj was detained multiple times under administrative detention orders issued by the military commander based on "secret evidence" that neither the detainee nor his lawyer were aware of. The list below provides an overview of Farraj's administrative detention record:
-       First administrative detention period was from 30 May 1994 to 1 February 1996 (20 months);
-       Second administrative detention period was from 9 April 2002 to 28 July 2006 (52 months);
-       Third administrative detention period was from 12 January 2009 to 9 October 2009 (nine months);
-       Fourth administrative detention period was from 27 November 2011 to 20 July 2012 (eight months);
-       Fifth administrative detention period was from 25 February 2014 to 21 October 2015 (20 months);
-       Sixth administrative detention period was from 21 May 2017 to 17 July 2018 (14 months).
In summary, the IOF held Farraj under administrative detention for about 3,700 days, 123 months, or more than ten years without charge nor trial but under the pretext of a 'secret file'.
Current Detention
Farraj was arrested on 27 September 2019 after Israeli soldiers had broken into his house in Ramallah at 3:00 AM. He was transferred to Ofer Prison and later sentenced to six months of administrative detention. After a month under administrative detention, Farraj was transferred to Al-Moskobiyeh in Jerusalem on 23 October 2019. Farraj spent forty days under cruel interrogation that included brutal psychological and physical torture.
Torture During Interrogation
As soon as Farraj set foot in Al-Moskobiyeh Detention and Interrogation Centre, he was put under interrogation. During his first week, Farraj was deprived of sleep and rest except during mealtimes. Israeli interrogators inflicted mental torture on the detainee by threatening to sentence him to life, detain his younger son, ban his older son from travelling, and revoke his family's Jerusalem ID cards. Farraj was also pressured using the threat of military interrogation.
After days of ceaseless interrogation, a military interrogation was set in motion which included brutal beating and physical torment. Farraj is the first detainee of his age to endure military interrogation since 2002. He was moved to a larger chamber where Israeli interrogators took turns torturing him over consecutive five consecutive days. With more than one interrogator present, the torture sessions were declared open by violent slapping on the detainee's face. Then, the interrogators applied pressure on the detainee's neck and cheeks using their fingers, causing the face to swell and burning pains that made swallowing difficult. Farraj was heavily beaten around the chest area by being pushed to the ground with his hands tied behind his back as one interrogator sat on his legs and another on his chest. The latter would apply pressure on Farraj's chest as other interrogators harshly slapped his face.. He was also held in stress positions for prolonged periods of time. He was forced into standing against the wall with his knees bent as his legs were heavily beaten. Every time the detainee fell to the ground, the interrogators forced him again into the exact position and resumed the beating. Besides, Farraj was forced into a squatting position inside the borders of one tile with his hands tied above his head. When the detainee inevitably kneeled over, the interrogator grabbed him by the neck back to the previous posture.
Farraj was also forced into another stress position where his hands were handcuffed to a table behind his back. The chains bounding his hands were continuously shortened to apply further pressure on the shoulders as the interrogators pushed against his chest and face.
In protest against the brutal torture he was subjected to, Farraj decided to go on a hunger strike for three days during his military interrogation to put an end to the tantalization. The step, however, did not deter the Israeli interrogators from carrying on with their torture.
Another tactic the interrogators used to break down Farraj was emotional blackmail. The IOF detained his younger son Wadee' and transferred him to the Russian Compound where his father was being interrogated. As soon as Wadee' was detained, the interrogators showed his photograph to his father to inform him about his son's arrest. The interrogators deliberately arranged for Farraj to see his son several times during the interrogation and threatened to detain his older son, Basil, as well.
During his military interrogation, Farraj would only visit the clinic for blood pressure and pulse rate checks. Whenever Farraj complained about chest pains, he was told that this was a 'normal' occurrence. Moreover, when Farraj complained about stomach aches, he was given painkillers without diagnosis, which proves the complicity of the medical staff at Al-Moskobiyeh Detention Centre.
Legal Status
Farraj was not allowed to see his lawyer for more than a month after he was transferred to the Russian Compound in Jerusalem. Eight military court orders were issued against Farraj denying him his right to consult with his lawyer. Addameer lawyers filed a petition to the Israeli High Court against such orders. Notwithstanding, the petition was dismissed. Addameer lawyers also lodged multiple appeals against the extension of Farraj's detention, but they were also overruled.
On 18 December 2019, the IOF brought charges against Farraj that included holding a position in an 'unlawful association' according to the claims of the Israeli Occupation Authorities. To this day, Farraj is still marking time for his trial.
Professional Life
Farraj works as the Finance and Administration Director at the Union of Agricultural Work Committees—a non-profit organization that has been working for over 30 years in the Occupied Palestinian Territory to support and empower Palestinian farmers, protect their rights and strengthen their steadfastness.
Family
Farraj and his wife Lamis have two sons, Basil (28 years old) and Wadi' (27 years old). Farraj's regular detainment took a toll on his family. In moments, the family needed him the most, detainment and imprisonment tore them apart. During his sons' graduation ceremonies from school and university, they would long for their father to share their joy and success. However, they were denied every opportunity to celebrate together, save for the one time where Farraj attended Wadee's master's graduation three months before his current detainment.
Farraj was not allowed to bid farewell to his late mother who died during his detention. Before her death, she was always denied visitation rights as the IOF claimed that she and Farraj are not blood relatives— a weak excuse to deny prisoners human contact with their families instead of invoking the usual security reasons. 
Medical Condition
Farraj suffers from Psoriasis, a skin disease that requires optimal living conditions since environmental factors can trigger it. The symptoms often worsen during winter and due to great psychological stress.