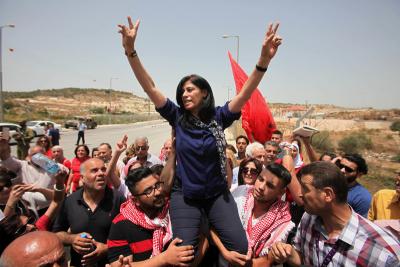 Palestinian legislative council member and activist, Khalida Jarar, has had her administrative detention period extended. Following the initial order, which commenced on 2 July 2017, Jarar was to be released on 1 January 2018. Her order was renewed on 27 December 2017 for an additional six month period. Khalida was arrested from her home in al-Bireh at 4:00 am on 2 July 2017.
Israeli authorities routinely PLC members, using the process of 'administrative detention' as a means to imprison them without charge for an indefinite renewal period of time. The intended aim is to prevent Palestinians from practicing their right to self-determination and freely chose their political representatives which would further expand Israel's domination over the Palestinian political system.
In addition, the occupation targets Palestinian Legislative Council (PLC) members. Currently, there are 11 PLC members held by occupation forces, with 9 of them being held under administrative detention.
We at Addameer condemn the occupation's policy of administrative detention, and its application to human rights defenders and PLC members. We call on them to immediately released Khalida Jarar, and cancel her administrative order renewal.
Further, we call on the international community to hold Israel accountable for their violations of international law and the basic rights of the Palestinian people.